San Antonio, Texas (May 27, 2014)–
The University of Georgia Bulldogs Bass Fishing team took the 9th annual BoatUS Collegiate Bass Fishing Championship presented by Cabela's title this past week in Florence, Alabama. Fishing on Lake Pickwick, the two-person team of William Treadwell and Byron Kenney weighed in ten fish over two days that gave them a cumulative weight of 49.68 pounds. They won by over three pounds to take the lead from Tennessee Tech University and University of North Alabama, who finished in 2nd and 3rd respectively.
This is UGA's second BoatUS Collegiate Bass Fishing Championship title, having won previously in Texas on Lake Lewisville in 2010. The duo of Treadwell, hailing from Buford Ga, and Kinney, hailing from Griffin, GA, have both been fishing for a long time and enjoy competitive fishing while representing their college. They said this was the biggest win of their career to date.
Kenney was part of the 2013 UGA team that made a run at the title with his then partner Taylor Boswell.   Despite starting the final day, that year in 3rd place, they eventually fell to 9th place, but the lessons learned in that event helped shape the final outcome this year. Treadwell, who will be a Senior next year, is a finance major and said that they spent most of practice looking for schools of fish on their electronics. Kenney, who recently graduated with a degree in Agriculture, added that by the time practice ended they had found 25 schools of fish but knew that a lot of them they would never get to fish due to other anglers finding them as well. Treadwell said, "Byron's experience last year at this event really helped out a lot in understanding where we might be able to find a few hidden schools of fish."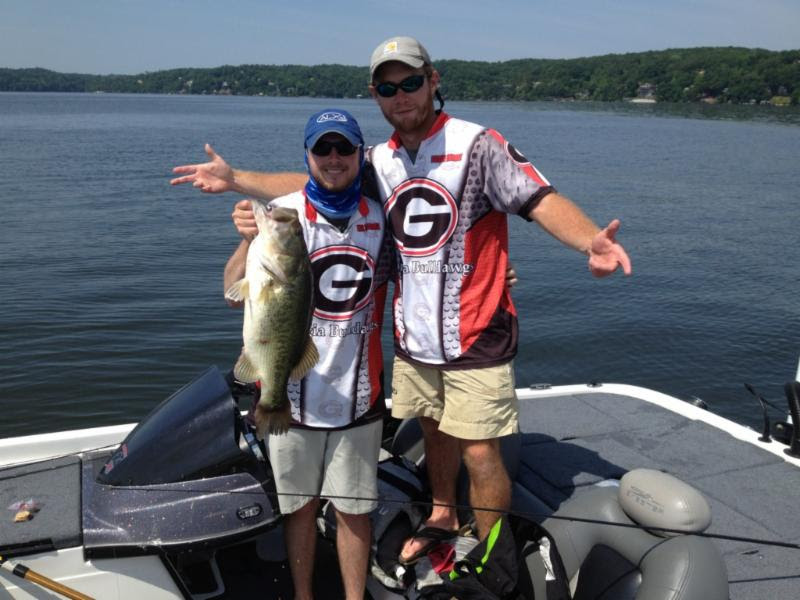 Kenney said, "I learned a lot last year and the experience really helped me to understand what to do in order to win." He felt that last time he didn't plan ahead enough for the second day of the event, however this year they planned to be in the hunt and that was a key factor in every decision that was made the first day. They said that they left the fish biting on several occasions the first day because they knew they had enough to be in the mix to win on the second day and did not want to exhaust their areas.
When asked what the keys were to winning they said electronics were absolutely crucial to their success. They caught their fish using Wackem Crazy Baits Plastics, Strike King 10XD in sexy shad and chartreuse sexy shad as well as a few fish on a spoon- all were paired with Fenwick rods.
When later asked what's ahead in their angling career, Kenney went on to say, "I will continue to fish the rest of the college tournaments this summer. I am not sure what I plan to fish next year, but I know I will be competing somewhere. Winning this tournament will open a lot of doors for us and we've already qualified for the TBF National Championship which is a huge opportunity."   When asked the same question Treadwell said, "I will continue to fish college and hopefully the B.A.S.S. opens." In addition to those plans, they will be coming back to Pickwick to fish the B.A.S.S. Collegiate Wildcard event in June, where they have to be the favorites, as you would expect.
Both anglers wanted to thank their families, friends, and god for all the support they have given them while fishing.