CADIZ, Ky. (June 9, 2016) – Jeremy Lawyer of Sarcoxie, Missouri, took the early lead at the BFL All-American on Lake Barkley with a five-bass limit weighing 18 pounds, 6 ounces. Lawyer will begin Day Two of the three-day competition with a 1-pound, 2-ounce lead over second-place angler Drew Boggs of Lebanon, Tennessee, who weighed in five bass totaling 17 pounds, 4 ounces.
Hosted by Cadiz-Trigg County Tourism, the BFL All-American features the top 49 boaters and top 49 co-anglers from across the 24-division BFL circuit and the TBF National Championship casting for cash prizes of up to $120,000 in the Boater Division and $60,000 in the Co-angler Division, plus an opportunity to compete for the Forrest Wood Cup Aug. 4-7 on Wheeler Lake in Huntsville, Alabama.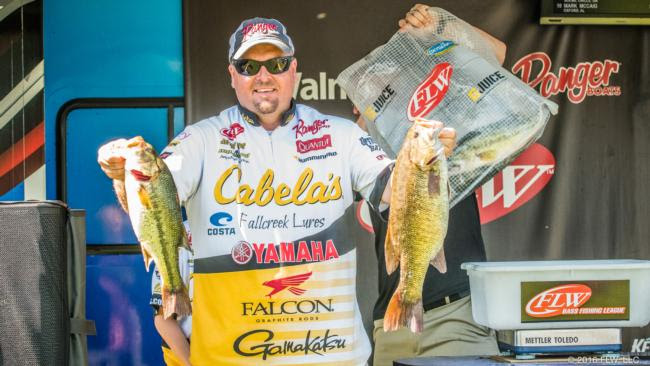 "I really thought I was going to catch them out there in a couple of key areas, but it was a grind," said Lawyer, who punched his ticket to the event via his fourth place finish at a BFL regional championship on Kentucky Lake last season. "We're all rotating through a lot of different cover out there."
Lawyer said he ran to nearly 50 different areas between the takeoff ramp and the Dover, Tennessee-region throughout the day, targeting fish that were setting up with the current.
"I had a limit by 10:30 a.m.," said Lawyer. "Of the eight keepers I caught, two of the better ones came from back-to-back casts in an area that I stopped at on a whim. The rest came from different spots. It's really going to be about timing this week. You've got to stop when there's a fish there, you can't sit in one place."
Lawyer said he caught his bass by throwing and dragging multiple different reaction baits.
"I've got 10 rods on my deck, each rigged different," said Lawyer. "Sometimes I get tired of throwing the same thing. I'm not afraid to pick up something new, it helps my confidence."
Lawyer said he plans to follow a similar route tomorrow, with some new areas mixed in.
"I'm going to make that same milk run," said Lawyer. "I caught a couple up shallow today, so I'm probably going to try and do that again, too. I'm not going to play it safe, that's for sure. I'm going to go out there swinging."
The top 10 boaters after Day One on Lake Barkley are:
1st: Jeremy Lawyer, Sarcoxie, Mo., five bass, 18-6
2nd: Drew Boggs, Lebanon, Tenn., five bass, 17-4
3rd: John Vanore, Mullica Hill, N.J., five bass, 15-14
4th: John Duvall, Madison, Ga., five bass, 15-13
5th: Andre Dickneite, Freeburg, Mo., five bass, 15-11
6th: Kyle Weisenburger, Ottawa, Ohio, five bass, 15-9
7th: Todd Walters, Kernersville, N.C., five bass, 15-1
8th: Jim Eakin, Clarksville, Tenn., five bass, 14-6
9th: Thomas Helton, Charleston, Tenn., five bass, 14-4
10th: Mike Devere, Berea, Ky., five bass, 14-2
Complete results can be found at FLWFishing.com.
Mike Allen of Crystal Springs, Mississippi, leads the co-angler division with five bass weighing 16 pounds, 5 ounces, followed by Bill Haunert of Blue Ash, Ohio, in second place with five bass weighing 11-12.
The top 10 co-anglers are:
1st: Mike Allen, Crystal Springs, Miss., five bass, 16-5
2nd: Bill Haunert, Blue Ash, Ohio, five bass, 11-12
3rd: Adam Wood, Guyton, Ga., four bass, 10-11
4th: Jesse Parks, Avondale, Ariz., four bass, 9-13
5th: Matt Webb, Newnan, Ga., three bass, 9-6
6th: Wesley Smith, Vinemont, Ala., four bass, 8-15
7th: Randy Smith, Fayetteville, Ga., three bass, 8-8
8th: March Glenn, Decatur, Ga., two bass, 7-10
9th: Steven Dowty, Claremore, Okla., three bass, 7-4
10th: Charles Knowles, Canton, Miss., two bass, 6-9
Anglers will take off from the Lake Barkley State Resort Park Marina located at 4200 State Park Road in Cadiz at 7 a.m. CDT each morning. Weigh-in will be held at the marina beginning at 3 p.m. Friday. Saturday's final weigh-in will be held in conjunction with the FLW Tour weigh-in at Kentucky Dam Village State Park, located at 7792 U.S. Highway 641 N. in Gilbertsville, Kentucky, beginning at 5:30 p.m.
The BFL is a 24-division circuit devoted to weekend anglers, with 120 tournaments throughout the season, five in each division. The top 50 boaters and co-anglers from each division qualify for a regional tournament and are competing to finish in the top six, which then qualifies them for one of the longest-running championships in all of competitive bass fishing – the BFL All-American. Top winners in the BFL can move up to the Costa FLW Series or even the Walmart FLW Tour.
Coverage of the 2016 BFL All-American will premiere in high-definition (HD) on NBC Sports Network (NBCSN) Oct. 5 from 1 p.m.-2 p.m. EDT. The Emmy-nominated "FLW" television show airs on NBCSN, the Pursuit Channel and the World Fishing Network and is broadcast to more than 564 million households worldwide, making it the most widely distributed weekly outdoors-sports television show in the world.
For a full schedule of events, complete details and updated information visit FLWFishing.com. For regular updates, photos, tournament news and more, follow FLW on Facebook at Facebook.com/FLWFishing and on Twitter at Twitter.com/FLWFishing.
About Fishing League Worldwide (FLW)
FLW is the world's largest tournament-fishing organization, providing anglers of all skill levels the opportunity to compete for millions in prize money in 2016 across five tournament circuits. Headquartered in Benton, Kentucky, with offices in Minneapolis, FLW conducts more than 235 bass-fishing tournaments annually across the United States and sanctions tournaments in Canada, China, Mexico and South Korea. FLW tournament fishing can be seen on the Emmy-nominated "FLW" television show, broadcast to more than 564 million households worldwide, while FLW Bass Fishing magazine delivers cutting-edge tips from top pros. For more information visit FLWFishing.com and follow FLW at Facebook, Twitter, Instagram, YouTube and Periscope: @FLWFishing.