TULSA, Okla. (Jan. 8, 2019) – Major League Fishing (MLF) today announced its five-person MLF NOW! talent lineup that will be calling the action during the program's five hours of live-streaming broadcast on each competition day of the new MLF Bass Pro Tour that kicks off Jan. 29 in Kissimmee, Fla.
For the play-by-play coverage, MLF veteran announcer Marty Stone will team with former pro angler JT Kenney, outdoors communicator Rob Newell, college sports announcer Chad McKee and social media personality Natalie Dillon.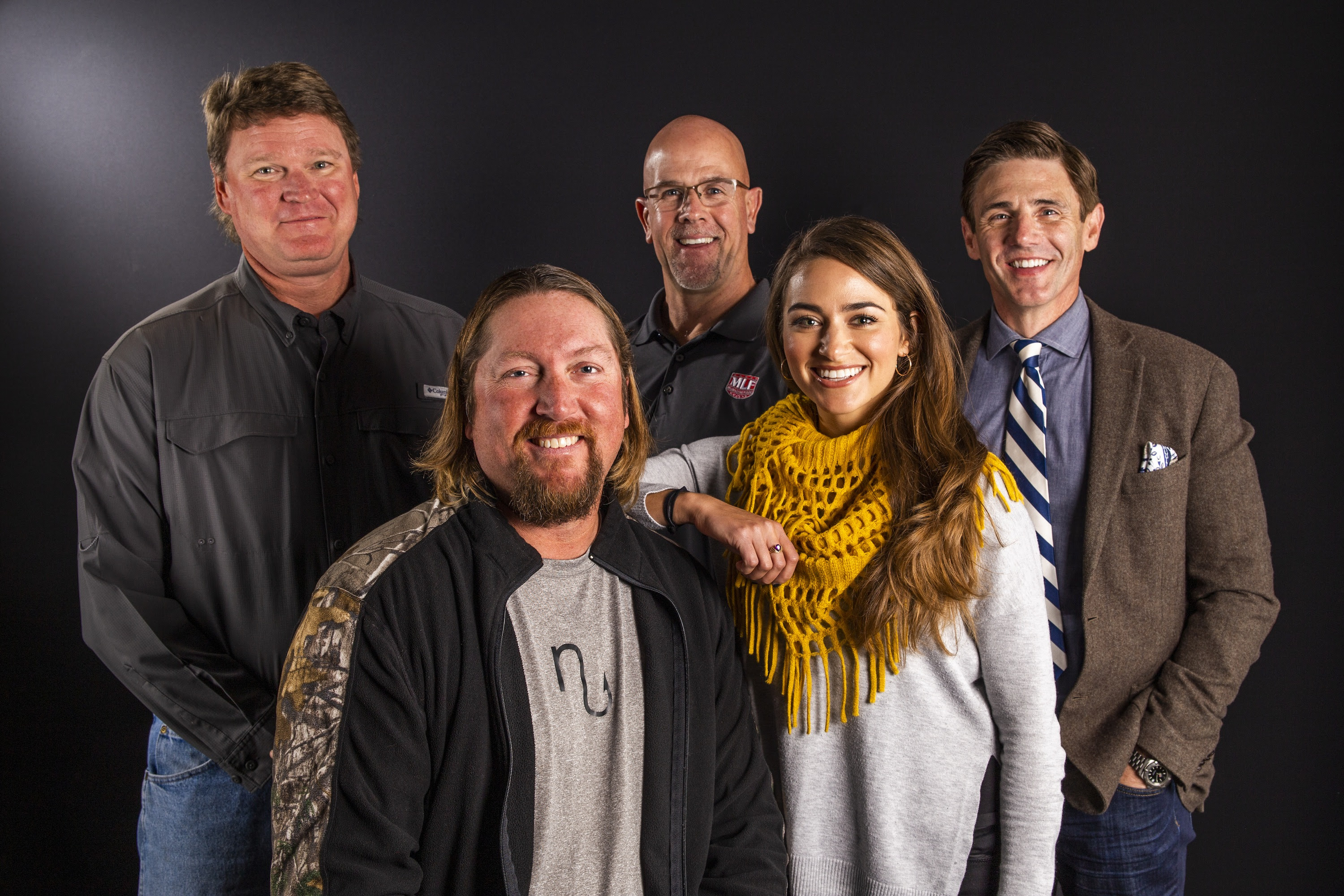 The new Major League Fishing MLF NOW! live stream broadcast team consists of (left to right): Rob Newell, JT Kenney, Marty Stone, Natalie Dillon and Chad McKee. The program will provide five hours of live streaming coverage during each competition day of MLF Bass Pro Tour series' events.  (Click to enlarge/download)
"I really like the dynamics of this group we've assembled," said Randy White, MLF vice president for broadcast production. "We wanted people who had different strengths and perspectives, and to that effect we have a great mix of personalities and knowledge with Marty, JT, Rob, Chad and Natalie. With each of them having their own style, it will no doubt add to the entire on-the-water viewing experience for our livestream audience."
Stone is a color analyst for General Tire Major League Fishing Cup events that air on the Outdoor Channel and CBS Sports, and has been since the television show's debut in 2011. During his previous pro angling career, he garnered two wins among 20 Top 10s in B.A.S.S. and FLW events.
Kenney is a former MLF Select pro who earned 45 Top 10 finishes and more than $1.5 million throughout a 17-year career along the FLW tournament trail. He elected to join the MLF NOW! team instead of competing in the Bass Pro Tour series.
McKee is a veteran college basketball and football announcer for ESPNU, where he also hosted the network's "This Week in the Big 12" studio show. He additionally hosts football programming on the University of Oklahoma's Sooner Sports TV.
Newell is an outdoors communicator whose articles and photos have appeared in FLW and Bassmaster media outlets for years, and he was a regular on FLW Live. He's also covered MLF events since the beginning and therefore has one of the most thorough understandings of the league's format, rules, anglers and tournament-fishing strategies.
Dillon is a social media personality with a following for her "Nattie Up North" postings on YouTube and Instagram. She developed her passion for fishing and the outdoors at an early age in her home state of Minnesota.
MLF NOW! features 10 cameras/cameramen shooting on board competitors' boats throughout all six rounds of each Bass Pro Tour event. MLF opted for the five-person talent crew instead of going with the smaller lineup used at Major League Fishing Cup and MLF Select events because of the extended real-time coverage.
"At first we looked at just a three person set, but quickly realized that five live hours a day is a lot of time for a host, analyst and reporter to cover," White said. "It made perfect sense to have a bigger team for MLF NOW! in order to capture the full excitement and keep things moving."
The organization's inaugural 80-angler event on Florida's Kissimmee Chain of Lakes is Jan. 29 – Feb. 3. Each of the eight Bass Pro Tour events will produce roughly 40 hours of live-streamed content that can be followed on MajorLeagueFishing.com.
All Bass Pro Tour venues have been qualified during the site selection process to satisfy MLF's stringent connectivity requirements because
MLF NOW!
live stream and SCORETRACKER

are critical parts throughout the competition days at every event.
Every Bass Pro Tour stop will also become a 2-hour television show to air on Discovery Channel in the fourth quarter of 2019, and then repeat on Sportsman Channel in first and second quarters 2020.
MLF also runs on Outdoor Channel, World Fishing Network, CBS, CBS Sports Network and Discovery Channel, and all episodes are available on-demand on My Outdoor TV (MOTV).

About Major League Fishing 
Developed through a joint effort between
Outdoor Channel
and the PBT anglers in 2011,
Major League Fishing
brings the high-intensity sport of competitive bass fishing into America's living rooms in the form of riveting two-hour TV episodes. World-class anglers are filmed over the course of a six-day event. The show captures their efforts as they utilize a demanding format that allows them to weigh all the "scorable bass" they catch. Unlike other competitive fishing events, live leaderboards in the boats allow anglers to know their standings at all times. For more information about the game, visit
www.majorleaguefishing.com
and follow Major League Fishing on
Twitter
,
Instagram
and
Facebook
. You can catch all current and past episodes of Major League Fishing on
#MyOutdoorTV
, the world's leading outdoor television global, streaming service provider. Also, for more information about MLF anglers, see
Game & Fish
magazine, the official publication of MLF.