Lake Toho, Kissimmee, Fla., will host the inaugural MLF Bass Pro Tour event in late January 2019. The scenic Florida destination has earned a reputation as being a quality tournament venue to challenge the country's top bass anglers. (Photo courtesy of Experience Kissimmee. Click to enlarge/download)
TULSA, Okla. (Dec. 3, 2018) – Major League Fishing officials announced today that the MLF Bass Pro Tour will head next month to Kissimmee, Fla., to kick off its inaugural season. Though the majority of the Jan. 29 – Feb. 3 action will take place on historic Lake Toho, the championship round will be held on another nearby body of water out of respect for the Fishing League Worldwide (FLW) tournament that follows.
News of the MLF Bass Pro Tour shook the fishing industry when it was announced in September. After obtaining the support and commitment of 80 of the world's top anglers, MLF was able to begin conversations with potential tournament destinations in mid-October.
"We're delighted to welcome the inaugural Major League Fishing Bass Pro Tour to Kissimmee," said John Poole, Executive Director of Kissimmee Sports Commission. "We pride ourselves on our destination's championship bass fishing lakes, which have been home to many marquee tournaments throughout the years. The impact of this event will benefit the industry's prominent presence in Kissimmee for years to come."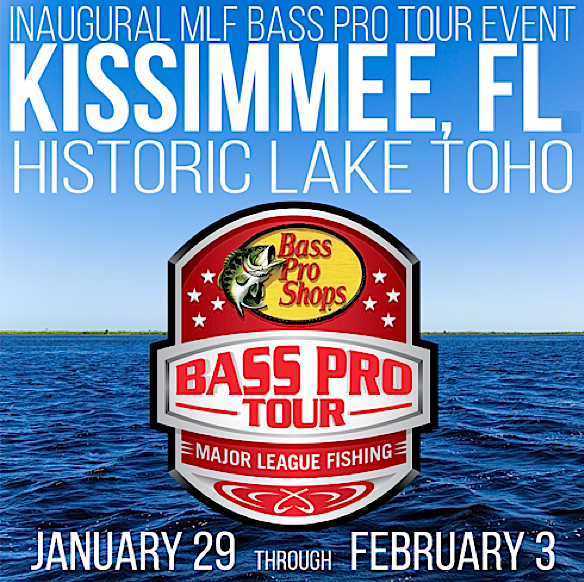 While all 2019 locations are nearing announcement, Major League Fishing must first go through an extensive vetting process that includes an extensive survey of the area and lakes for each venue prior to confirmation. Unlike all other bass tournaments, MLF gives fans a real-time virtual onsite experience of angler coverage by using industry-leading communication technology requiring highly specialized connectivity needs to be able to feed all of MLF's integral components, like its live-streaming MLF NOW! and SCORETRACKER© live.
"It's wonderful to have a place like Kissimmee on board and so many other cities interested in hosting our Bass Pro Tour events, because it really validates the impact of Major League Fishing's visitation to an area," said Michael Mulone, Senior Director of Events and Partnerships. "The power of our brand is resonating with destinations as they know our anglers and content will provide significant exposure and tangible economic impact to their respective communities. We are so grateful that Experience Kissimmee and the City of Kissimmee are partnering with us on the inaugural Bass Pro Tour event."
Major League Fishing features the 80 top anglers in the country and includes Bassmaster Classic champions, Angler of the Year winners and titleholders from both the Bassmaster Elite Series and the FLW Tour. In the Bass Pro Tour opener, two groups of 40 anglers will compete across Lake Tohopekaliga, known as Lake Toho, all seeking to make it to the final day's championship round of 10 anglers.
The format is for the competitors to seek and catch as many fish as possible in 7.5 hours of fishing, during which all "scorable bass" will be weighed, scored and immediately released back into the water, a scenario that sets the Bass Pro Tour apart from all other bass tournament series.
MLF Pro Angler Bobby Lane hoists a bass while being mindful of potential penalties as his onboard official watches closely. The MLF Bass Pro Tour series opens next month on Florida's Lake Toho. The Kissimmee destination is considered Lane's home water, but he'll find the competition tough as the country's top 80 bass professionals will fish the much anticipated opener for the new eight-tournament series with championship. (Click to enlarge/download) 
The Kissimmee Bass Pro Tour event will also result in a 2-hour television show that will air on Discovery Channel in the fourth quarter of 2019, and then in the first and second quarters on Sportsman Channel.
Major League Fishing has previously visited Florida twice to film its highly popular "Major League Fishing" television show, including the filming of the MLF 2018 General Tire World Championship, all of which also air on Outdoor Channel.
—————————————-
About Major League Fishing 
Developed through a joint effort between
Outdoor Channel
and the PBT anglers in 2011,
Major League Fishing
brings the high-intensity sport of competitive bass fishing into America's living rooms in the form of riveting two-hour TV episodes. World-class anglers are filmed over the course of a six-day event. The show captures their efforts as they utilize a demanding format that allows them to weigh all the "scorable bass" they catch. Unlike other competitive fishing events, live leaderboards in the boats allow anglers to know their standings at all times. For more information about the game, visit
www.majorleaguefishing.com
and follow Major League Fishing on
Twitter
,
Instagram
and
Facebook
. You can catch all current and past episodes of Major League Fishing on
#MyOutdoorTV
, the world's leading outdoor television global, streaming service provider. Also, for more information about MLF anglers, see
Game & Fish
magazine, the official publication of MLF.