BRANSON, Mo. (June 4, 2019) – After four days of competition on Table Rock Lake in Missouri's Ozark Mountains, the Major League Fishing® (MLF) Bass Pro Tour Bad Boy Mowers Stage Seven Presented by Covercraft has reached the make-or-break point for 40 of the anglers in the 80-man field.
Tuesday's Knockout Round – which will take place from 12 p.m. to 8 p.m. CT on Table Rock Lake – includes the Top 20 finishers from two competition groups, many of whom have taken turns breaking records the past two weeks on this impoundment of the White River.
Knockout Weights Back To Zero
The 40 anglers fishing in today's Knockout Round will start from zero. That means that the astounding two-day weights compiled by anglers like Jacob Wheeler (160 pounds, 1 ounce) and Shin Fukae (143-1) in the Knockout and Elimination rounds are moot: the semi-final day of competition is now an 8-hour scramble for the 10 spots in the Championship Round.
"All any of us can do is go out there and fish our game," said Wheeler, who set Bass Pro Tour records for both weight and most fish caught in two rounds (108). "I don't know how many people in the other group have been fishing my best stuff this week, so I don't know how small it's going to fish. This is a giant lake with a ton of fish, but your key areas are still important. I think it's going to take between 55 and 75 pounds to make the 10 cut."
Elimination Round 2: the return of KVD
Monday's second Elimination Round saw a familiar face at the top of the 40-man Group B standings: Kevin VanDam. The Table Rock veteran scaled 69-14 to go with the 54-0 he caught in the Shotgun Round for a two-day total of 123-14. Scott Suggs was right on VanDam's heels with 122-6, followed by Brandon Palaniuk (117-13) and Todd Faircloth (115-9).
This is VanDam's second Knockout Round of the season.
"I see these threads on social media asking 'What's wrong with KVD, what's wrong with KVD?' I can tell you right now, everybody is fixing to see what's right with KVD," said MLF NOW! live stream analyst JT Kenney. "Kevin knows this lake about as well as anybody alive, and it's setting up really well for him."
Elimination Round 1: Wheeler dominated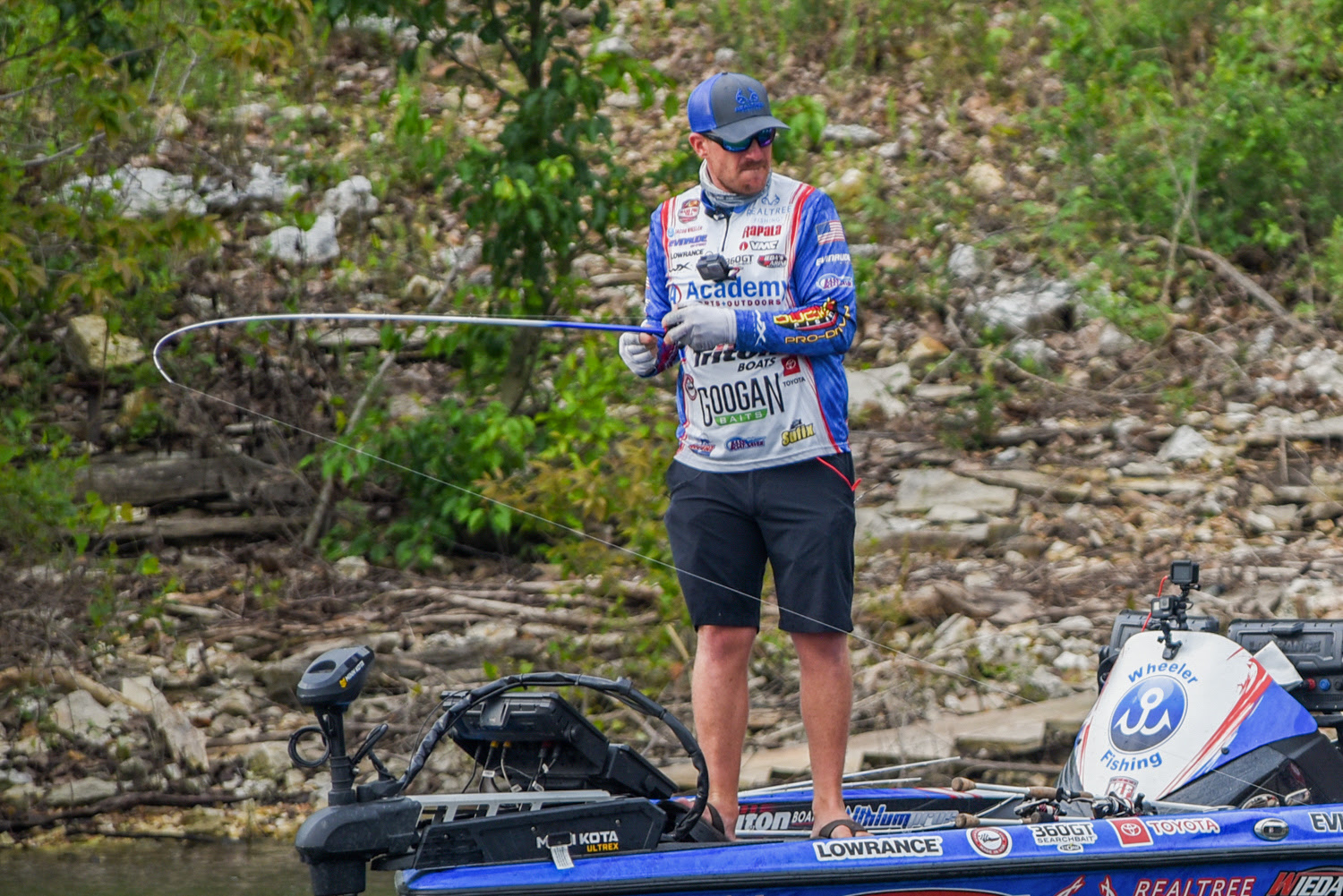 MLF pro Jacob Wheeler dominated Group A's Elimination Round with an impressive two-day total of 108 scorable bass totaling 160-01. Eyes will be on him to see if he can maintain the momentum to advance to the Championship Round and a Stage Seven win.
One look at the results of the first Elimination Round of the event (held Sunday, June 2) will tell you all you need to know about how prolific Table Rock's bass fishery is: Not only did Wheeler and Fukae combine for nearly 200 fish and over 300 pounds of spotted and largemouth bass, but 12 of the anglers who advanced to the semi-final cleared the 100-pound mark.
Wheeler was untouchable, though. The Tennessee pro took the lead from Fukae in the third period of their Shotgun Round, and then proceeded to surpass the previous two-day weight record by more than 25 pounds (Cliff Pace's 134-13 in Stage Six). Wheeler is on track to also beat the event total-weight record set by Aaron Martens in his victory in that same event (Martens scaled 283-4).
Looking ahead to final two days
Weights will be zeroed for the 40-angler Knockout Round, making the Knockout a one-day scramble. The Top 10 anglers in the Knockout Round will advance to the Championship Round on Wednesday, June 5.
How, When and Where to Watch Today
Competition begins at 12 p.m. CT, with live, official scoring available via SCORETRACKER® on MajorLeagueFishing.com and on the MLF app. The
MLF NOW! live stream begins at 11:55 a.m. CT with coverage of Period 1, with Steven "Lurch" Scott and Rob Newell calling the live action. Full coverage continues at 2:30 p.m., when Chad McKee, JT Kenney, Marty Stone, and Natalie Dillon pick up the commentary and analysis until lines out at 8 p.m.
 
There will be no Berkley Postgame Show until Wednesday's Championship Round.
Knockout's 40 Anglers
To see the list of all 40 anglers fishing in the Knockout Round and to follow their standings throughout the day, visit MajorLeagueFishing.com and click "
SCORETRACKER
." All results throughout the week can also be found on the website by clicking "
Results
."
###
About Major League Fishing 
Founded in 2011, Major League Fishing (MLF) brings the high-intensity sport of competitive bass fishing into America's living rooms on Discovery Channel, World Fishing Network, CBS, CBS Sports Network, Discovery Channel, Sportsman Channel and on-demand on MyOutdoorTV (MOTV). The new Bass Pro Tour consists of eight events and the Bass Pro Tour Championship, the REDCREST. MLF will also continue its popular Cup events and World Championship, all of which use the same entertaining and conservation-friendly catch, weigh and immediate-release format. For more information, visit www.majorleaguefishing.com and follow MLF on Twitter, Instagram and Facebook. Also, for more information about MLF anglers, see Game & Fish magazine, the official publication of MLF.