CULLMAN, Ala. (May 5, 2019) – It's an age-old question in competitive bass fishing: pattern or location? If you ask Major League Fishing® (MLF) pro Dean Rojas this week, he'll come down firmly on the side of "location".
Fishing an area on the upper end of Smith Lake that he had found during practice for the Bass Pro Tour Phoenix Boats Stage Five Presented by Mercury Marine, the Arizona pro went to work on the Sunday-morning shad spawn with a mix of baits (primarily a crankbait, swim jig, frog and swimbait). By the end of the first period, Rojas had put 23 fish on SCORETRACKER® for 36 pounds, 5 ounces – enough spotted and largemouth bass that Rojas could've put his rods down for most of the rest of the day and still won.
"It's not too often that you get into a championship round where the fish are biting like that and you can use multiple baits to rack up a big lead," Rojas said. "The conditions were right: we had overcast skies, a breeze, warm temperatures, and the fish were just feeding in the area I was in. It was just about capitalizing on this format. I knew I had to catch as many fish as I could early to put some distance between me and the field."
Rojas added an additional 9-1 in the second and third periods for good measure, finishing with 47-0 and a 6-plus-pound win over Brent Chapman (40-14), Michael Neal (34-15), Jason Christie (32-6) and Todd Faircloth (32-2). Mark Rose (29-14), Brent Ehrler (26-0), Dustin Connell (24-14), Mike Iaconelli (17-14) and Fred Roumbanis (10-1) rounded out the Top 10.
"At the end of the first period, that was the end of (the bite)," Rojas admitted. "It was a big deal that I caught as many fish as I could to build a big lead. Period 2 and Period 3 were a matter of catching a few here and there, but I was struggling because they just wouldn't bite."
Rojas Cashes in on "Money Spot"  
Rojas was one of a handful of anglers in the 80-man field who identified his primary area, a stretch of bushes in the Ryan Creek Arm. Rojas hit the area throughout the week of competition, sharing it periodically with Boyd Duckett, etc., but had the whole stretch to himself on Championship morning.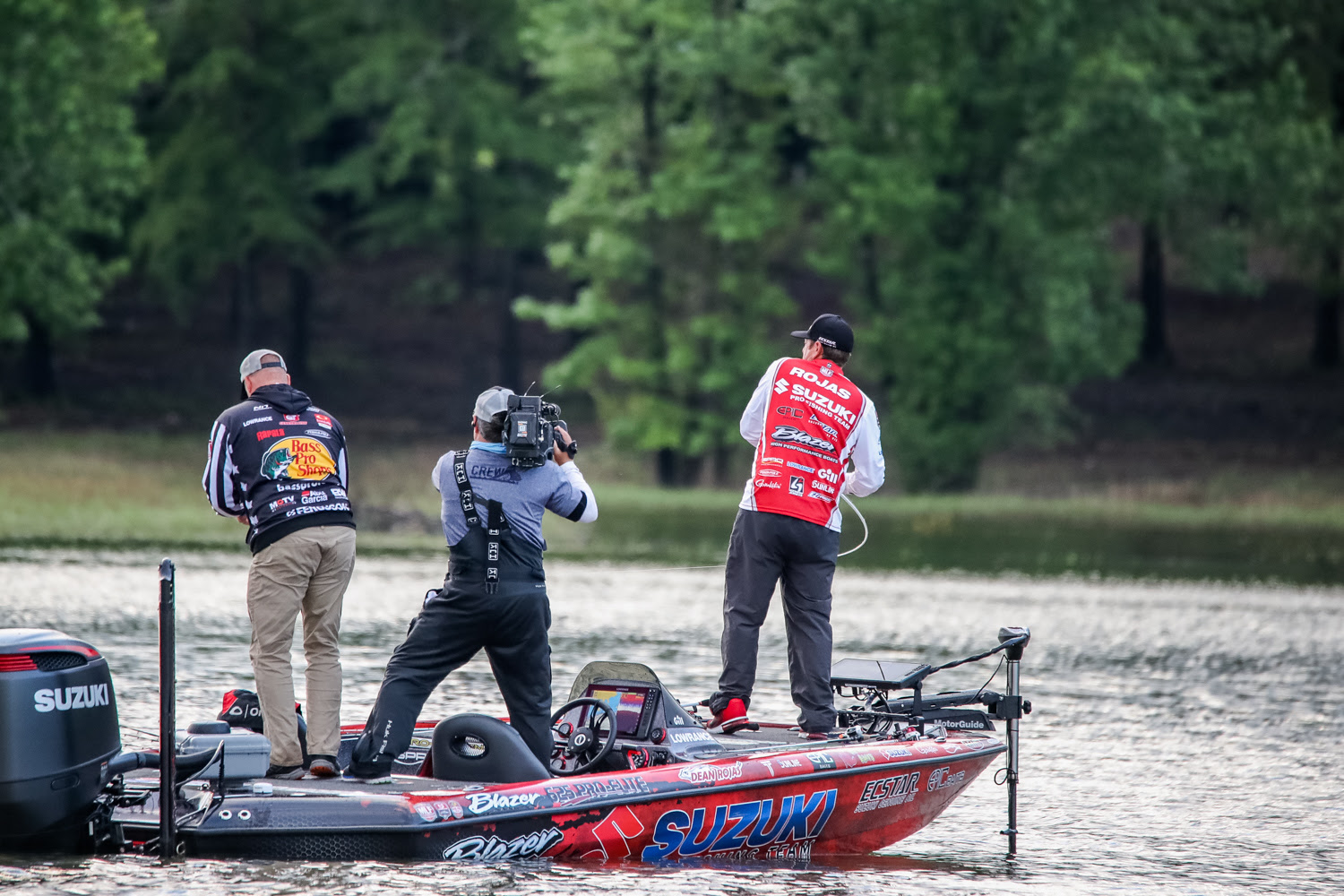 MLF pro Dean Rojas caught them early and often on Championship Sunday at Smith Lake, finishing Period 1 with 23 bass totaling 36-5 to put him atop SCORETRACKER and the position he stayed for the rest of the competition.
(Photo by Josh Gassmann. Click to enlarge/download)
"I had to mix it up to catch all those fish, but there was bait all over that area, so I had a feeling the fish should be there this morning," Rojas said. "I went to that spot every morning in the ride-around to see if they were still spawning, because that's what they were doing in practice. I didn't go to it until the Elimination Round because my other stuff wasn't working, and then didn't fish it in Knockout because Boyd was fishing there. I went there this morning and they were busting, so I sat down on it and fished it out."
Chapman Made a Late Run at Rojas
Just 24 hours after qualifying for the finals thanks to a 3-13 largemouth that he caught with 10 seconds left, Chapman made another final-period run at the top of SCORETRACKER®, catching a 3-14 largemouth and a 4-10 largemouth in the final 20 minutes of competition to cut Rojas' lead in half.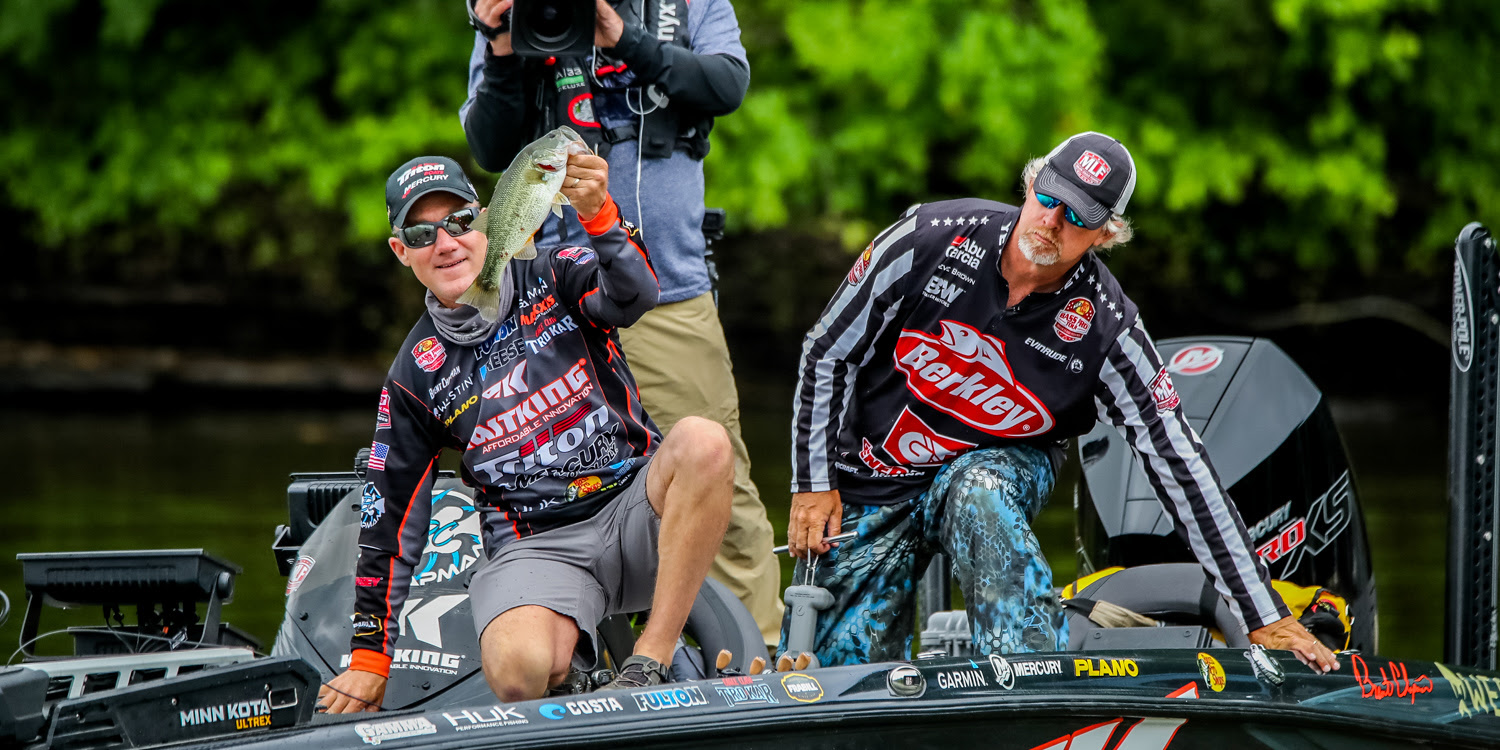 MLF pro Brent Chapman made a strong run in the final period of Championship Sunday, but fell about 6-pounds short of catching up to Rojas' winning weight. (Photo by Josh Gassmann. Click to enlarge/download)
"I noticed going into the third period that things were getting tough, and thought of that little point where I had caught a fish on every bush when there was a shad spawn going on," Chapman said. "I figured that my best chance was to go somewhere where I knew I was putting my bait around fish on every single cast. I figured that was my best chance to at least put myself in position to have a chance to win."
Championship Notes
Rojas' Bass Pro Tour Stage Five win is his first tour-level win since a Bassmaster Elite Series title on Toledo Bend Reservoir in 2011, a span of 80 events … Neal fished his third Championship Round in five events this season … Sunday's round was the first Bass Pro Tour Championship Sunday without Edwin Evers: the current Bass Pro Tour Points Race leader finished 16th, to add to his previous finishes of second, first, fourth and seventh … Faircloth was named the MLF Autism Awareness Champion on Sunday after weighing the most fish in April (Autism Awareness Month).
Championship Round Final Results
To see full details of the Championship Round, as well as all results for all rounds during the week on Smith Lake, visit MajorLeagueFishing.com and click "
Results
."
###
About Major League Fishing 
Founded in 2011, Major League Fishing (MLF) brings the high-intensity sport of competitive bass fishing into America's living rooms on Discovery Channel, World Fishing Network, CBS, CBS Sports Network, Discovery Channel, Sportsman Channel and on-demand on MyOutdoorTV (MOTV). The new Bass Pro Tour consists of eight events and the Bass Pro Tour Championship, the REDCREST. MLF will also continue its popular Cup events and World Championship, all of which use the same entertaining and conservation-friendly catch, weigh and immediate-release format. For more information, visit www.majorleaguefishing.com and follow MLF on Twitter, Instagram and Facebook. Also, for more information about MLF anglers, see Game & Fish magazine, the official publication of MLF.