CARROLLTON, Texas (Oct. 7, 2014) – Amphibia ANSI-rated floating eyegear was named Best New Product at the recent 2014 International Vision Expo West in Las Vegas, making it two "Bests" in a row for Amphibia at the annual ophthalmic conference. It was the first time in the show's 26-year history that a company has won the distinction in back-to-back years.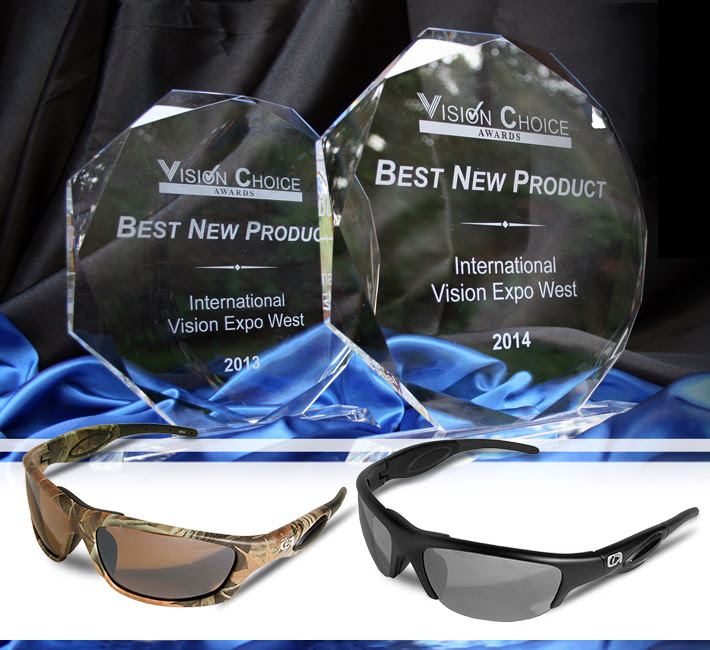 Amphibia's new Hydrafoil (left) and Hydra series of floating eyegear are the world's first and only floating impact resistant eyewear safety frames. The innovations were responsible for Amphibia winning Best New Product for the second year in a row at the recent International Vision Expo West in Las Vegas.
Last year was the first appearance at the expo for the young Amphibia brand and it earned the Best New Product award for its high-end floating sunglass line. The recognition validated the company's positioning as premium floating eyegear featuring industry-leading frames and the finest in 100 percent polarized lenses that block ultraviolet rays UVA, UVB and UVC.
The 2014 award honors Amphibia's new half-frame Hydra series and full-frame Hydrafoil series, both with frames as well as lenses that meet the American National Standards Institute (ANSI) standards and conformity rating assessments for eyeglasses. The ANSI for eye protection is Z87.1, which gives a specific impact resistance rating to protective eyewear.
"This is literally a moon-landing accomplishment for us, a place where eyegear has never gone before," said Jeff Gibson, Amphibia president. "We are the world's first and only floating impact resistant eyewear safety frame, meaning we're able to maintain buoyancy while also having the density to withstand ANSI's rigorous Z87.1 testing. This award, and winning it again for the second time in a row, is a monumental statement for the Amphibia brand."
Guaranteed to float, all models of Amphibia sunglasses feature a manufacturing process that incorporates patent-pending AirCel™ and AirBridge™ technology into the frames. The technology uses patented air capsules in strategic locations in frames and bridges to make the eyegear float horizontally. The feature returns submerged sunglasses to the surface and horizontal floating makes them easier to find and retrieve.
The new Amphibia Hydra series (shown), like all Amphibia eyegear, features polycarbonate ANSI-rated lenses and patent-pending AirCell and AirBridge technology to keep glasses floating for easy recovery if they end up in the water.
Amphibia's TR-90 frame material is considered to be plastics' equivalent to titanium, providing an excellent strength-to-weight ratio. The frames also feature a high silicone rubber composition specifically engineered to react to body temperatures that result in a no-slip fit.
Standard on all Amphibia sunglasses are 2mm polycarbonate ANSI-rated lenses that are shatter resistant and have a Hydrophobic Coating on lens fronts to repel water. In addition, Amphibia lenses feature a proprietary coating called AquaArmor™ that completely eliminates fogging on the inside of lens surfaces.
"You can literally hold our sunglasses over a boiling pot of water and they will not fog," explained Gibson. "The feature is standard throughout the Amphibia lineup and unique to our brand. The other great news is that our sunglasses can also receive prescription lenses."
The Amphibia lineup consists of seven series of floating sunglasses – Hydra, Hydrafoil, Wave, Genesis, Exodus, DepthCharge and 2112 – ranging in price from $129 – $169. Amphibia sunglasses are designed especially for outdoorspeople active on water and land.
Amphibia Sports sponsors several of professional fishing's top pro anglers, including Stetson Blaylock, Brandon Card, Jason Christie, Grant Goldbeck, Davey Hite, Tim Horton, Jeff Kriet, Jared Lintner, Mike McClelland, Jacob Powroznik, Derek Remitz, Jason Reyes, Scott Rook, Fred Roumbanis, Jeff Sprague, Jeremy Starks, James Watson and Barry Wilson, as well as stand up paddle boarder Garrett Fletcher.
The International Vision Expo West is recognized as the world's most inclusive ophthalmic conference for delivering an unbiased education around all aspects of medical, diagnostic, lab and practice management skills and the latest trends in eyewear fashion.
For more information, visit www.AmphibiaSports.com.